Benefits of Having a Professional Kitchen Makeover
The renovation with the highest return on investment is always the kitchen. This is why so many homeowners focus their attention in that direction. Your family will love the look and feel of a brand new kitchen, and your revitalized gathering space will help you make more memories with the ones you love. If you do decide to sell your home, potential homebuyers place a
high value on a kitchen
that is modern and functional. You can typically recover all of your kitchen renovation costs should you choose sell your home. Some of the other benefits of a professional full kitchen renovation include:
Reduced energy costs and improved sustainability with upgraded appliances
An optimized space that is comfortable and easy to move about
Up-to-date look and feel with modern design and fixtures
Enhanced comfort through better ventilation, bigger windows or island seating
Improved safety by replacing outdated appliances, fixtures and outlets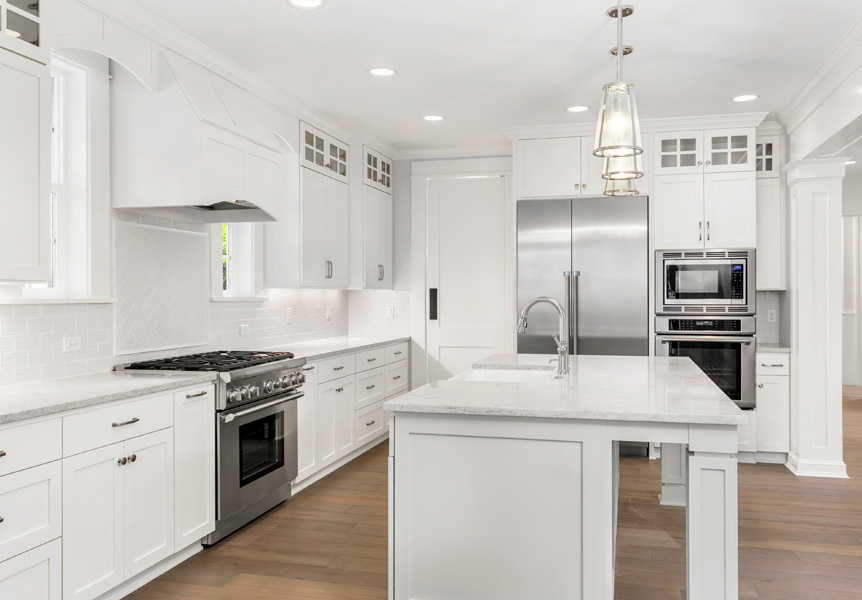 Turning Your Vision Into Reality
For any kitchen renovation and remodel, there are many steps and factors to consider to turn your kitchen vision into reality. We promise that we will help you every step of the way. Generally, it takes about 12 weeks to complete a full kitchen
renovation
and the process will start with a meeting where we get to know your needs. Our professional kitchen designer will work with you to incorporate every features and components you feel are important. We will present you with a design package that details the layout and explains our renovation plan so you can see what every step will be and what materials will be used throughout the process. Next, our professional contractors will begin the construction phase of the project. This is where the real magic happens and your old kitchen is transformed before your eyes.
The various components of construction include:
Disconnecting and removing old appliances
Taking out walls, flooring, cabinets, and pantries.
Completing rough-ins for plumbing, and electrical
Laying down new flooring
Putting up new drywall
Preparing and setting walls for new cabinets
Setting new cabinets in place
Measuring new countertops and setting them in place
Finishing the backsplash and any extra plumbing or electrical work
We will also make recommendations for new appliances that will fit the new design plan and layout of the kitchen. These may include fridges, stoves, dishwashers, hood fans and microwaves.
Kitchen Contractors You Can Trust
At Artisan Contracting, our goal is to create lasting relationships with our customers by focusing on your needs and communicating openly and honestly every step of the way. We believe in honest pricing and we are a family run business that is also part of the communities we serve. If you are in Burlington,
Oakville
,
Hamilton
, Stoney Creek, Waterdown, Grimsby and the surrounding areas, get in touch with us today to request a free consultation and view our gallery and see for yourself why we are the right choice for your kitchen remodel.
FAQ
There are several questions you should ask before hiring a contractor, including:
Are they licensed and insured?
Do they have references and reviews?
Do I need permits for my renovation? Can they help with them?
What measures do they take to prefer minimal disruption to your daily home life?
What are the payment terms?
Your renovation may require a permit if your kitchen is undergoing structural changes. Artisan Contracting can help you to determine if a permit is required.
We recommend taking the following steps to prepare for your kitchen renovation once you've hired a contractor:
Ask your contractor if any permits will be necessary. If so, work with your contractor to apply for them.
Set up a temporary kitchen and dining area elsewhere in your home.
Prepare for slight disruption, noise, and dust.